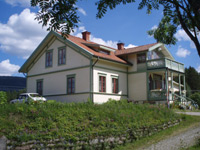 Jennys Stugor is placed on Gästgivaregården in Långå, it´s build in the end on 1800 century and travling people with horses used it as a place for staying over the night. Gästgivaregården has keept the charming style and is easy tom imagine how travlers, hunters and fishers lived in the passed.
Jennys Stugor is placed beside the river Ljusnan. The naturue is adorbel, could it be a better neighbor.
Just outside Gästgivaregården from the road 84 it´s a sign with the name Jennys Stugor.
The distance out west is to Funäsdalen is 5 mil and to the border of Norway 7 swedish miles.